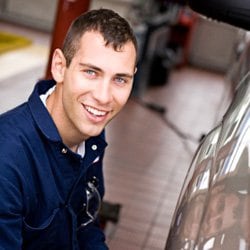 Keeping your Ford well maintained is an important part of getting the most out of your vehicle. If you own a Ford, you know about their consistent and reliable performance. However, even the best car, SUV, or truck will run into the occasional problem. You might also want to modify your Ford or restore a classic vehicle to its former glory.
Whatever you need, the Parts Center at Prescott Brothers Ford has you covered. Prescott Brothers Ford maintains an extensive inventory of genuine high-quality OEM Ford Parts. Chances are, we have what you're looking for. Even if we don't have the part you need, our knowledgeable staff will help you get that part on order and to you quickly.
Prescott Brothers also carries OEM Ford accessories. Don't take a gamble on unreliable off-brand parts. Get the only parts recommended by Ford.
Get Genuine OEM Ford Parts in Rochelle, IL
Order your OEM Ford Parts with our convenient online order form. If you have any questions, contact the Parts Department at Prescott Brothers Ford, and our staff will assist you.
Also, make sure to check out the other services offered by our Rochelle, Illinois, based dealership, like our current service deals. We look forward to working with you.